Local. Family Owned. Trusted.
Commercial Dumpster Rental Austin TX
Top-Rated Commercial Dumpster Rentals in Austin
At Griffin Waste Services, the customer always comes first. We take pride in offering the highest quality products and services in the industry.
Hiring a commercial dumpster company is essential in removing unwanted office furniture, streamlining building projects such as renovations or demolitions, and disposing of the various waste materials afterward. With the right team on your side, these seemingly large tasks can be efficiently completed. The experienced professionals can provide quick and efficient services to quickly dispose of all types of items, allowing you to focus on other essential aspects of your business without the hassle of disposing of everything yourself. Furthermore, commercial dumpster companies help save you money over time by ensuring that the job is done the first time correctly and no hazardous materials are disposed into landfills illegally. Hire a commercial dumpster company today and benefit from their wide range of skills and experience while saving time and money.
As an experienced building professional knows, staying compliant with larger-scale commercial building projects is essential. Avoiding potential risks from non-compliance can be challenging, but our team of licensed technicians can help you. At Griffin Waste Services, we have the experience and expertise to ensure that your trash is disposed of according to all applicable protocols, so you and your project can be safeguarded from potential liability issues. Working with us means you don't need to worry about overlooking this critical factor, as we have all the tools and knowledge required to deliver complete compliance and successful project completion.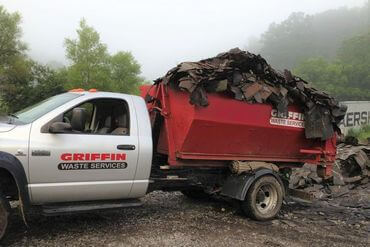 Searching for Austin Commercial Dumpster Rental Near Me?
As a top-rated commercial dumpster company in the Austin, TX, area, we recognize the unique requirements of businesses and residences when it comes to disposing of unwanted waste. We strive to ensure our customers have access to comprehensive services that are both affordable and convenient. Our large portable dumpsters provide a quick, easy solution for businesses seeking to neaten up their environment without breaking the bank – whether you're looking for a one-time construction cleanup or ongoing waste disposal needs. Look no further: our team is here to help!
If you're looking for commercial dumpster rental Austin, TX, Austin commercial dumpster rental near me, or construction dumpster rental Austin, TX, we're here to help fill the waste disposal gaps. At Griffin Waste Services, we understand that time is of the essence in any project. That's why we prioritize organization and strategy when you choose us to take care of your rubbish removal needs. We will place your commercial portable dumpster in a spot beneficial for its function and your project's smooth progression. With us at your side, you can be sure that everything is running in a structured and organized way; you can get back to making progress on your project sooner rather than later.
Professional Construction Dumpster Rental Austin TX Residents Trust
Our commercial dumpster services make clearing the space for any commercial building or renovation project easy. From the initial delivery to pick up, this service helps create a clean and safe environment for employees and customers. Working quickly, our reliable dumpsters enable workers to keep their workspace tidy and organized. At the same time, they complete the job, making for a more productive and efficient clean-up process in the end. This feature helps construction teams work more quickly and enhances the safety conditions of your commercial project. With less debris and potentially hazardous materials in the way, people in the vicinity can enjoy better air quality and easier-to-navigate conditions. At Griffin Waste Services, we've worked with countless projects, so we know how to provide a solution for any need. That's why our flexible terms of service suit any project size or duration, ensuring you get only the help you need when removing debris.
Living in Austin, Texas, is an experience like no other. Home to bustling nightlife, excellent restaurants, and a melting pot of culture, Austin offers something for everyone. The capital of Texas is known for its live music venues, award-winning food, and festivals such as SXSW and the Austin City Limits Music Festival. Between local attractions such as Barton Springs Pool and Zilker Park, plus unique neighborhoods like 6th Street, South Congress Avenue, and Rainey Street, living in Austin undoubtedly provides something new to discover each day. Whether you're looking for outdoor recreation at the lakes or exploring the historic buildings around town – Austin offers a unique lifestyle that locals love, which is why it continues to be one of the fastest-growing cities in the US. 
Book Your Dumpster Online
We want to earn your business and turn you into a long-term customer. 
I have always used Griffin Waste for my dumpster rentals. I always receive, professional and courteous service. The dumpster is always placed where I would like it and nobody has to be present for pickup. I would definitely recommend this company!
Griffin Waste is great to provide a dumpster on short notice. The team is very courteous and does a great job of communicating drop-off and pick-up. I highly recommend this business.
Friendly phone service, fast delivery, and best rates I could find! We finished before our 5 day rental was up, called and asked for an earlier pick up, and they were there in a few hours. Very impressed, would recommend and use again!
Call Today for a Large Dumpster Rental in Austin, TX!
With Griffin Waste Removal Services, business owners can trust that their trash and waste will be disposed of with utmost care. We provide exceptional quality services and ensure fair pricing for all budgets. With state-of-the-art equipment, you are guaranteed that the removal process complies with environmental regulations and safety protocols while being cost-efficient. In addition, we're always striving to be the best construction dumpster rental Austin, TX, has to offer. That way, you know you're getting thoughtful and efficient service. Get in touch today to experience peace of mind with a reliable waste removal service at your disposal.